das.Brett

Balance board for children & adults
das.Brett

Balance board for children & adults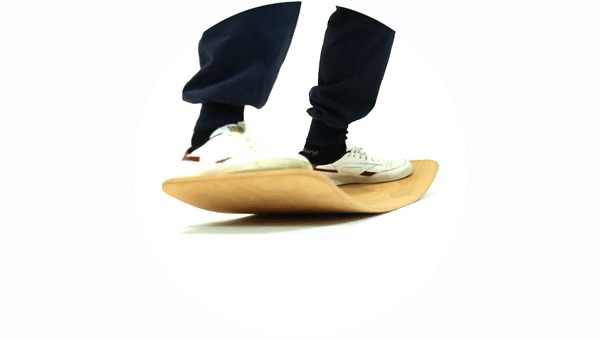 das.Brett – naturally oiled (EN)
Pure nature and simple!The classic among balance boards with a sleek, simple design. Only solvent-free, dermatologically tested and food-safe natural and hard oils from the Swabian Jura are used.Size: 86 x 28 x 19 cmWeight: 2,3 kgProduct content:1x das.Brett – naturally oiled1x instruction with fitness and yoga exercisesLoadable up to 120kg.Suitable for max. one person, loadable up to 120kgSports equipment, not a toy!Sports equipment according to DIN EN 913. Suitable for children from 3 years.​​​​​​Children under the age of 6 require special supervision.May only be used on level ground.May not be used on one or both sides!Made in Germany 
das.Brett – clear lacquered (EN)
An eye-catcher!Size: 86 x 28 x 19 cmWeight: 2,3 kgProduct content:1x das.Brett – clear lacquered1x instruction with fitness and yoga exercisesLoadable up to 120kg.Suitable for max. one person, loadable up to 120kgSports equipment, not a toy!Sports equipment according to DIN EN 913. Suitable for children from 3 years.Children under the age of 6 require special supervision.May only be used on level ground.May not be used on one or both sides!Made in Germany
das.Brett colored
An eye-catcher in a fresh colour!Size: 86 x 28 x 19 cmWeight: 2,3 kgProduct content:1x das.Brett1x instruction with fitness and yoga exercisesLoadable up to 120kg.Suitable for max. one person, loadable up to 120kgSports equipment, not a toy!Sports equipment according to DIN EN 913. Suitable for children from 3 years.Children under the age of 6 require special supervision.May only be used on level ground.May not be used on one or both sides!Made in Germany
das.Brett – naturally oiled & cork (EN)
Pure nature, for special demands! The cork strips protect your wooden or tiled floor and board from scratches.Size: 86 x 28 x 19cmWeight: 2.3kgProduct content:1x das.Brett - naturally oiled with cork1x instruction with fitness and yoga exercisesLoadable up to 120kg.Suitable for max. one person, loadable up to 120kgSports equipment, not a toy!Sports equipment according to DIN EN 913. Suitable for children from 3 years.Children under the age of 6 require special supervision.May only be used on level ground.May not be used on one or both sides!Made in Germany
das.Brett – clear lacquered & cork (EN)
An eye-catcher for use on sensitive floors!Size: 86 x 28 x 19 cmWeight: 2.3 kgProduct content: 1x das.Brett – clear lacquered & cork1x instruction with fitness and yoga exercisesLoadable up to 120kg.Suitable for max. one person, loadable up to 120kgSports equipment, not a toy!Sports equipment according to DIN EN 913. Suitable for children from 3 years.Children under the age of 6 require special supervision.May only be used on level ground.May not be used on one or both sides!Made in Germany
das.Brett colored & cork
An eye-catcher in a fresh color for use on sensitive floors!Size: 86 x 28 x 19 cmWeight: 2.3 kgProduct content: 1x das.Brett colored & cork1x instruction with fitness and yoga exercisesLoadable up to 120kg.Suitable for max. one person, loadable up to 120kgSports equipment, not a toy!Sports equipment according to DIN EN 913. Suitable for children from 3 years.Children under the age of 6 require special supervision.May only be used on level ground.May not be used on one or both sides!Made in Germany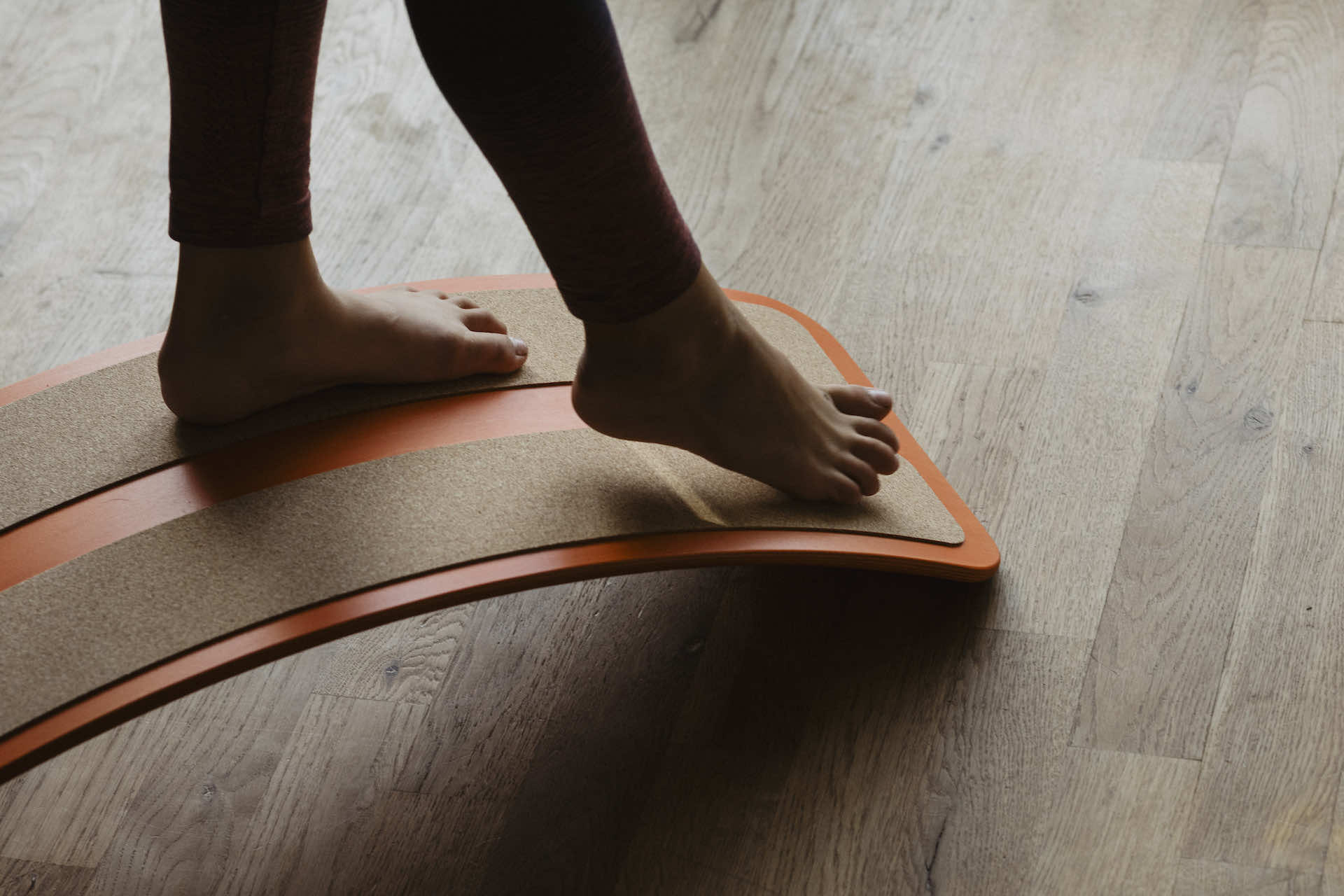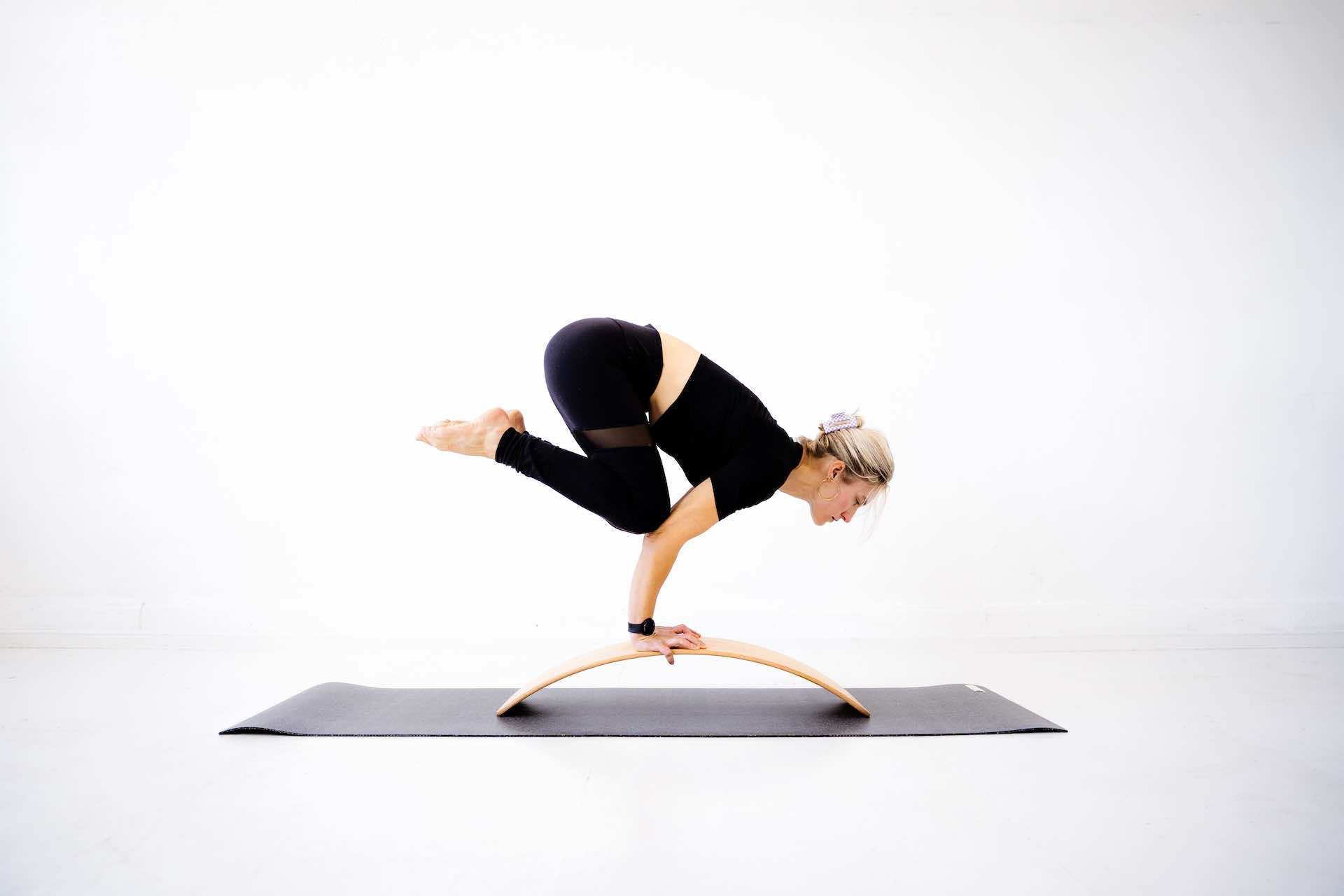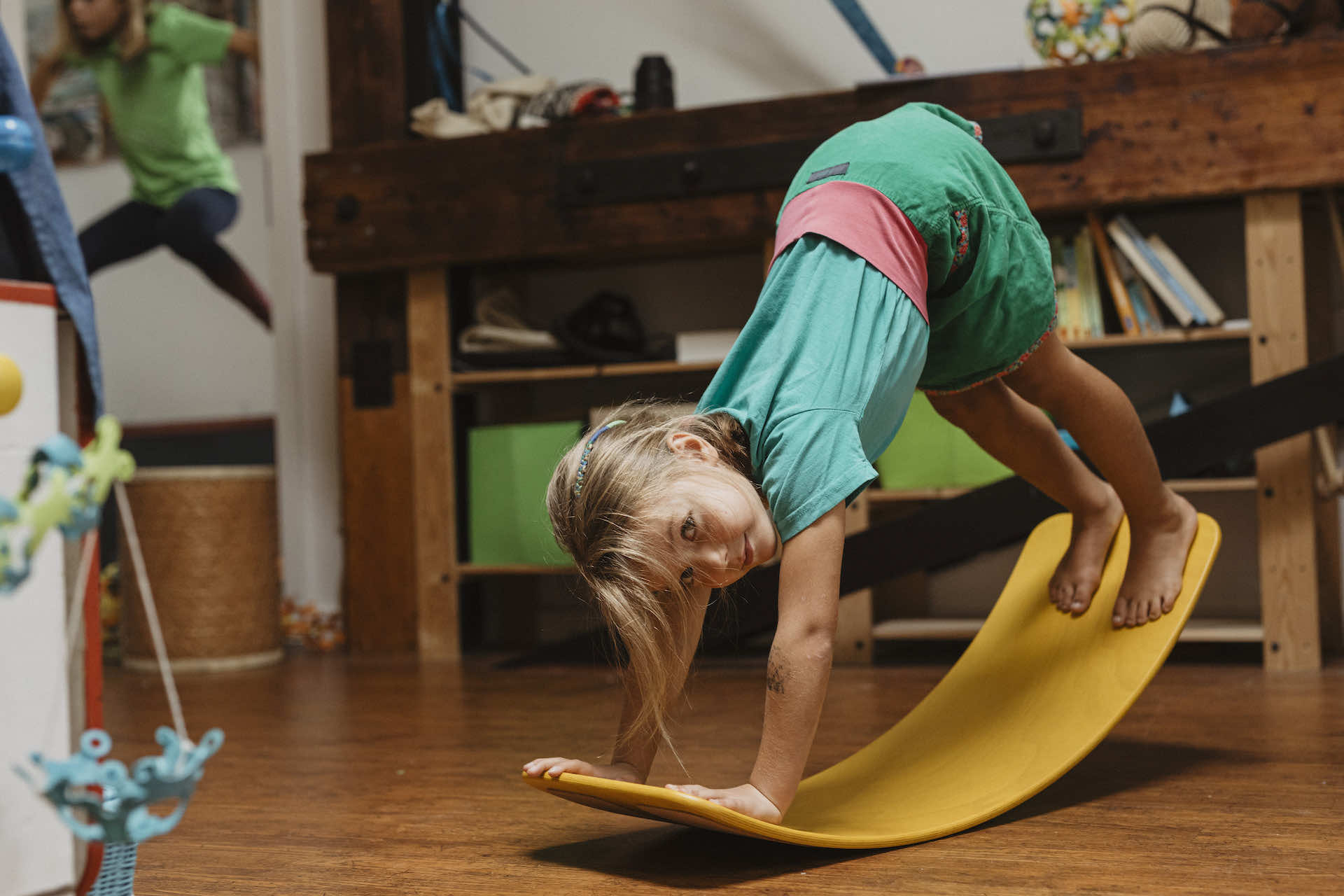 Open play equipment for children
Our Balance Board allows children to try out free play: das.Brett turns into a swing, a seesaw, a slide or even a sled. The shape of our "wobble board" creates room for imagination. Balance, motor skills, coordination and body perception are trained playfully.
Exercise equipment for adults
Das.Brett brings new momentum to your fitness workout and/or yoga practice. Its elasticity promotes the entire body musculature. You'll find inspiration in the enclosed booklet with over 60 illustrated fitness and yoga exercises.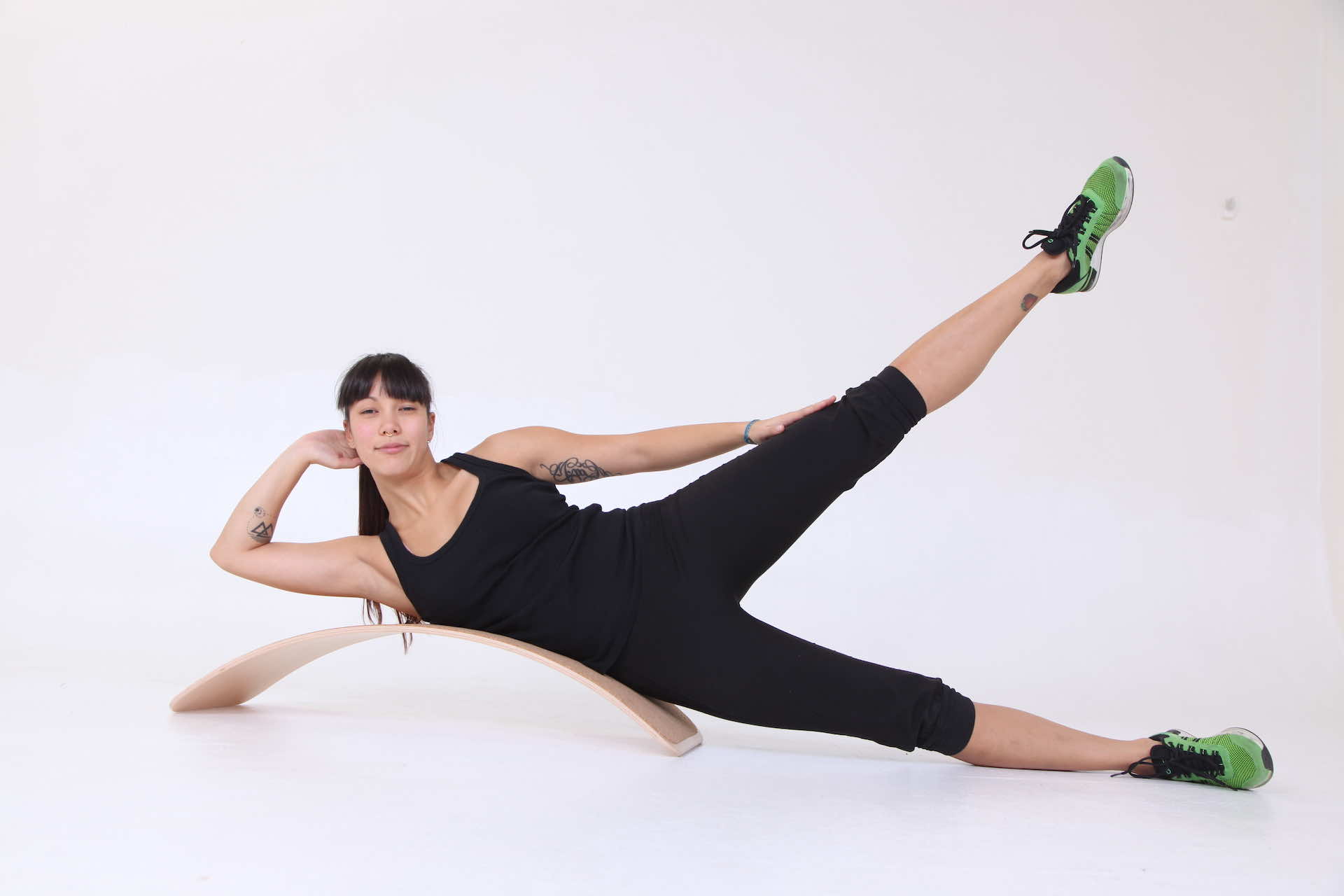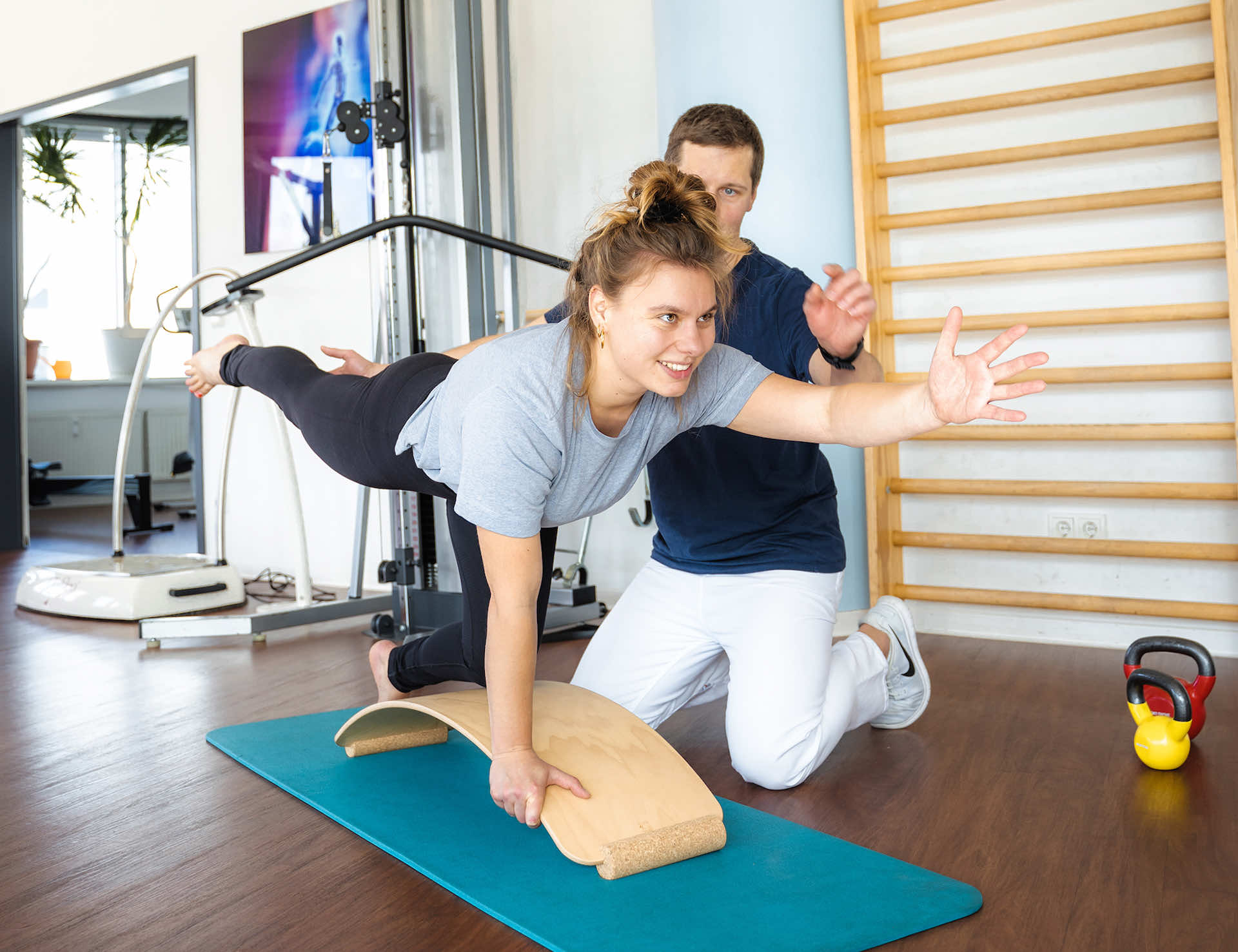 Use for rehabilitation and therapy purposes
Das.Brett trains balance and prevents back problems such as scoliosis and tension. The Balance Board is perfect for senor gymnastics and rehabilitation training. Das.Brett is also successfully used in occupational therapy and speech therapy (e.g. voice therapy).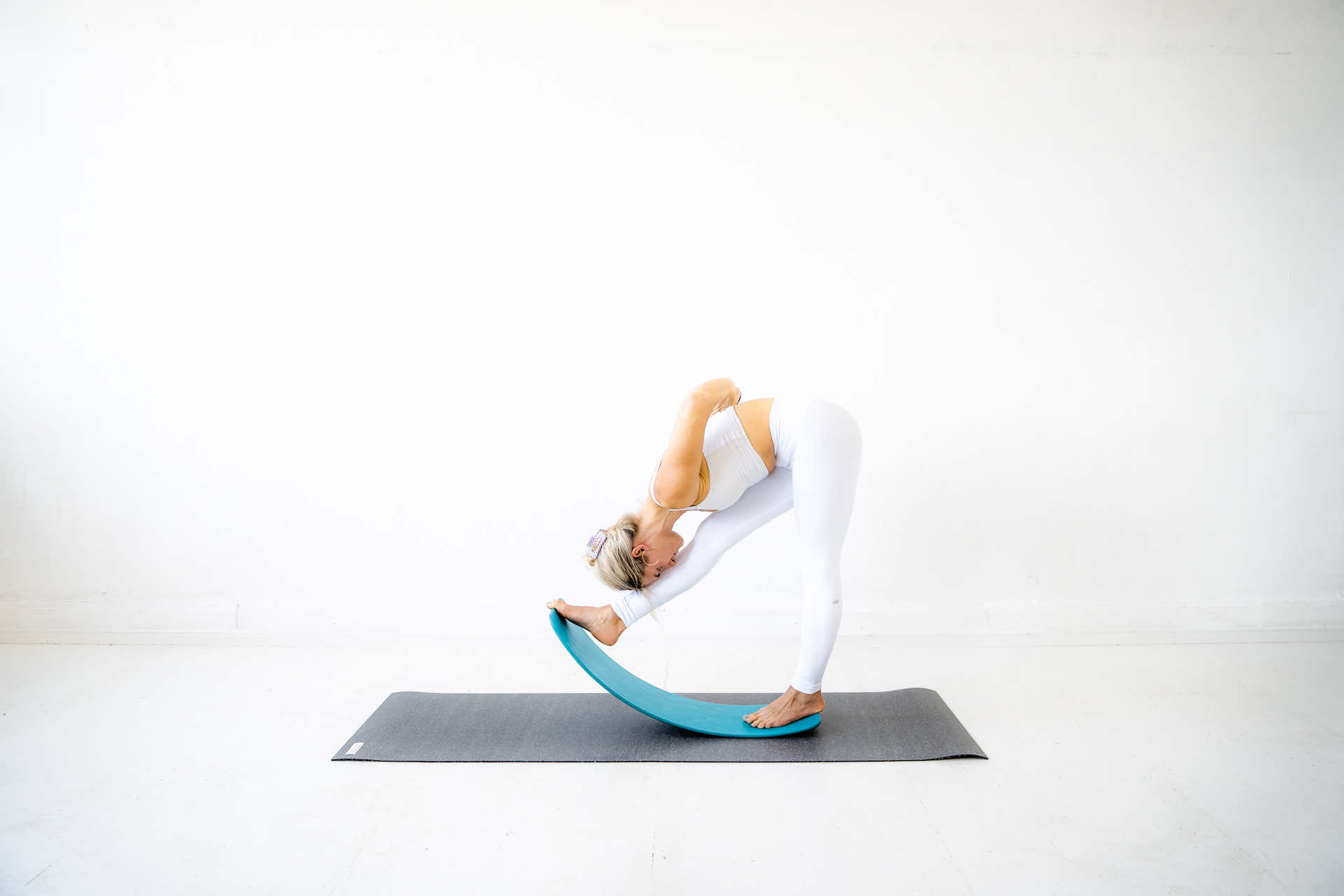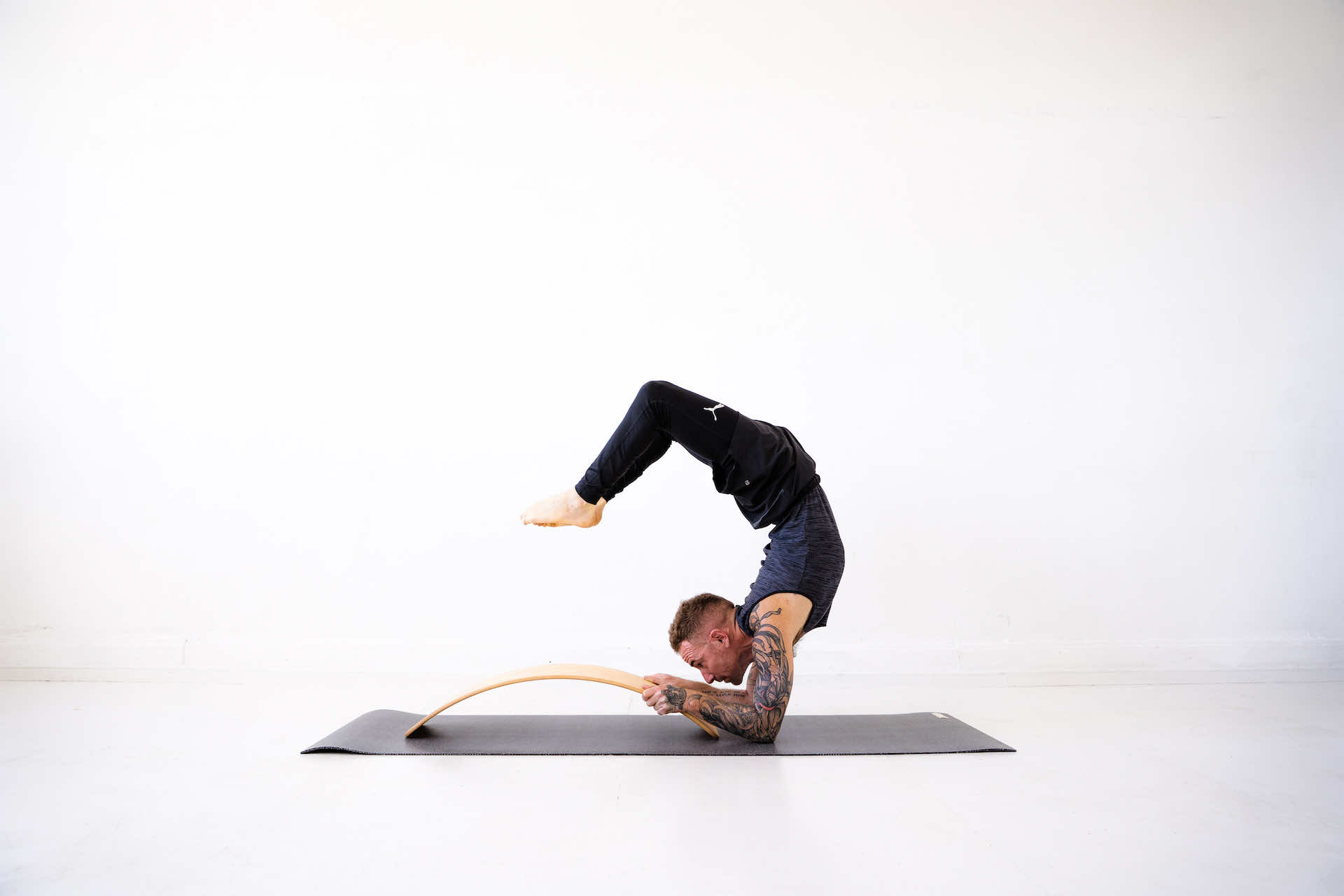 #brettyoga – voucher for online course!
"das.brett-yoga – voucher for online course!"Are you looking for inspiration on what else is possible with das.Brett? Or after a small gift idea for your loved one?Then our #brettyoga online courses are just right for you!The offer includes:– Voucher for a course unit in the finest HD quality– approx. 60 minutes per unit / language: German– available as a videoFlorian Ferger (founder and yoga teacher) from the Leipzig yoga studio ELEMENT Ost: "Yoga on the board is still yoga. But it brings you variety and new, diverse challenges, in short: it lets you experience your yoga practice in a completely new way."With this single card you can unlock any Brettyoga video for one week. The plank yoga course is suitable for beginners and advanced. When you book, you will receive a PDF with a voucher code. You can print this out as a gift or redeem the code yourself! The video will be made available on the eversports.de platform (separate login required).Here you get to the videosHere you get to the timetable of ELEMENT Ost Yoga with the Brettyoga Livestream on Thursday
der.Wackler
der.Wackler is a spinning top, seat cushion and balance board in one! For fitness enthusiasts, athletes, children and adults of all ages - the wobbler supports everyone who wants to improve their balance and body control.Promotes: - balance - Posture & movement coordination - Strengthening of the arch of the foot - Stabilization of the leg axis Product dimensions: Ø28 cm x 7 cm Material: corkWeight: 0.8kg
die.Rollen – 2 cork rolls for das.Brett
Die.Rollen are attached to the outer edges of the board. So you have a handle for a comfortable grip during fitness and yoga exercises. The rollers also protect the surface when you turn your board over and nothing can slide away.comfortable handleprevents slippingprotects the surface (floor, yoga mat, children's carpet)made from the bark of the cork oakSize of a roll: 20 x Ø 5 cmWeight: about 0,200 kgContents: 2 piecesCaution!Die.Rollen are a perfect fit for das.Brett from 2018. Please check the year of laser engraving on your das.Brett.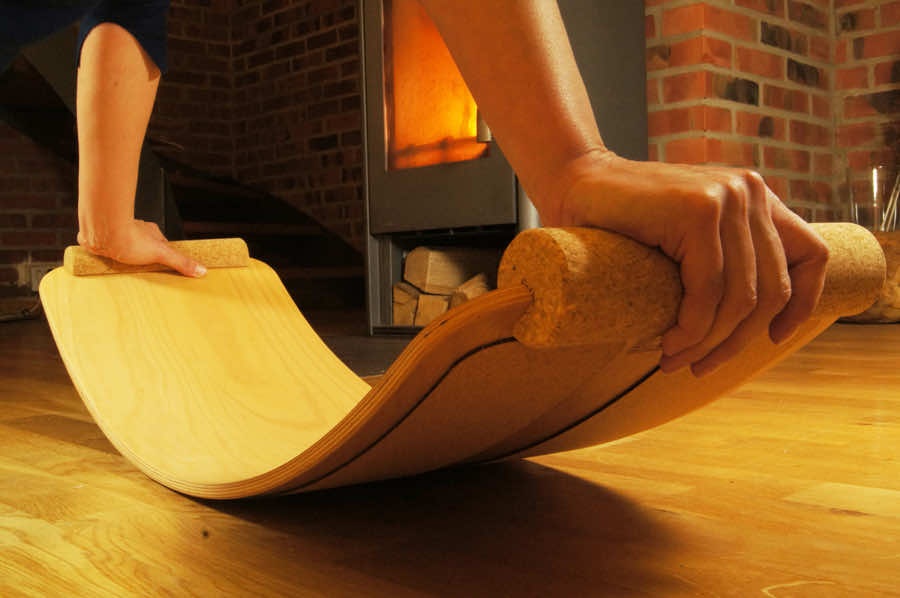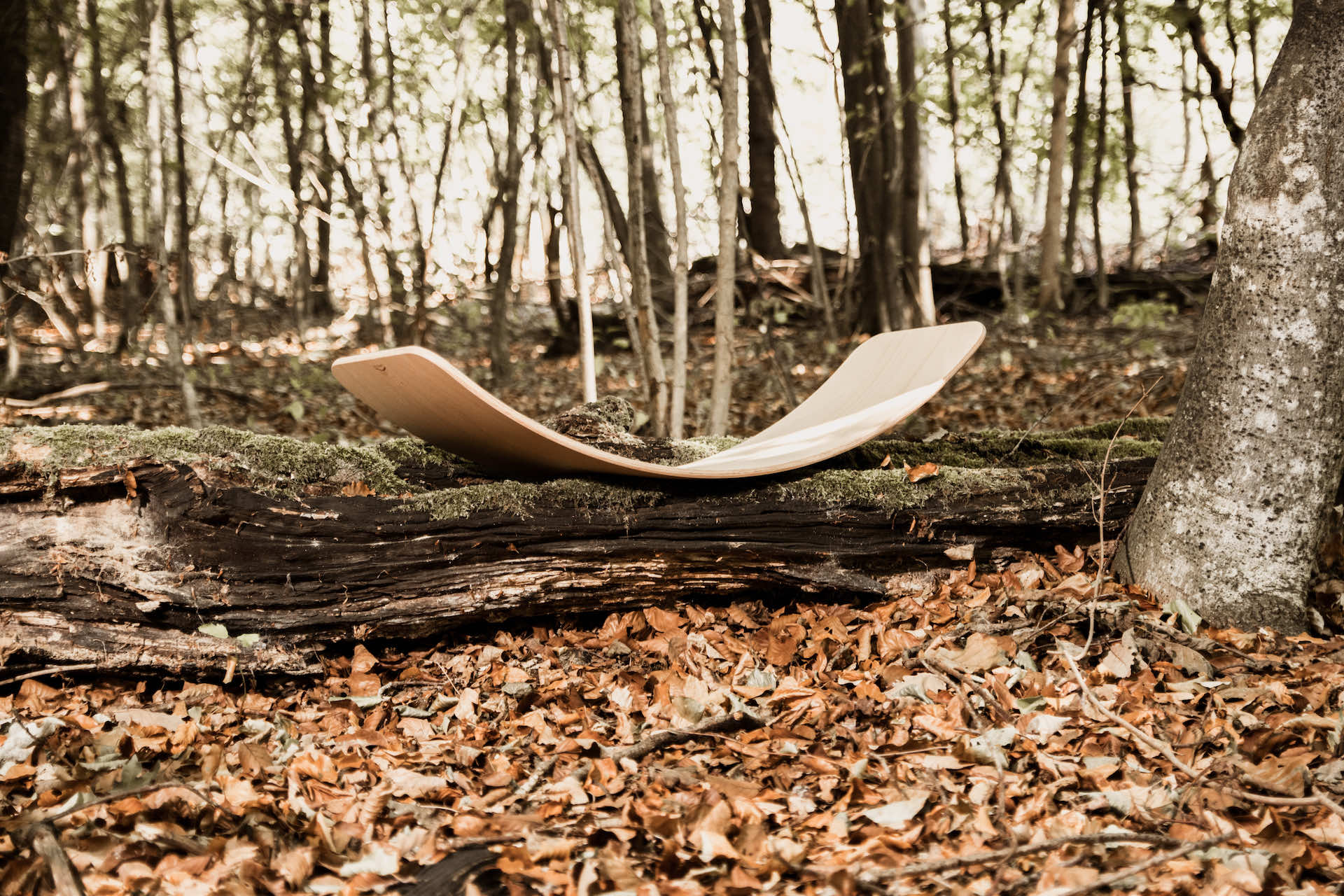 First-class materials
For the production of our Balance Board we use local beech wood from sustainable forestry (origin: NRW / PEFC-certified) as well as solvent-free and food-safe paints and oils from an organic farm in the Swabian Alb.
High quality processing
Das.Brett is brought "into shape" in specialized craft workshops in NRW. Through a special, 11-layer veneer construction, we ensure that the.board is extremely stable (up to 120kg) and yet remains elastic. In Leipzig, we give the boards the finishing touches in loving handwork.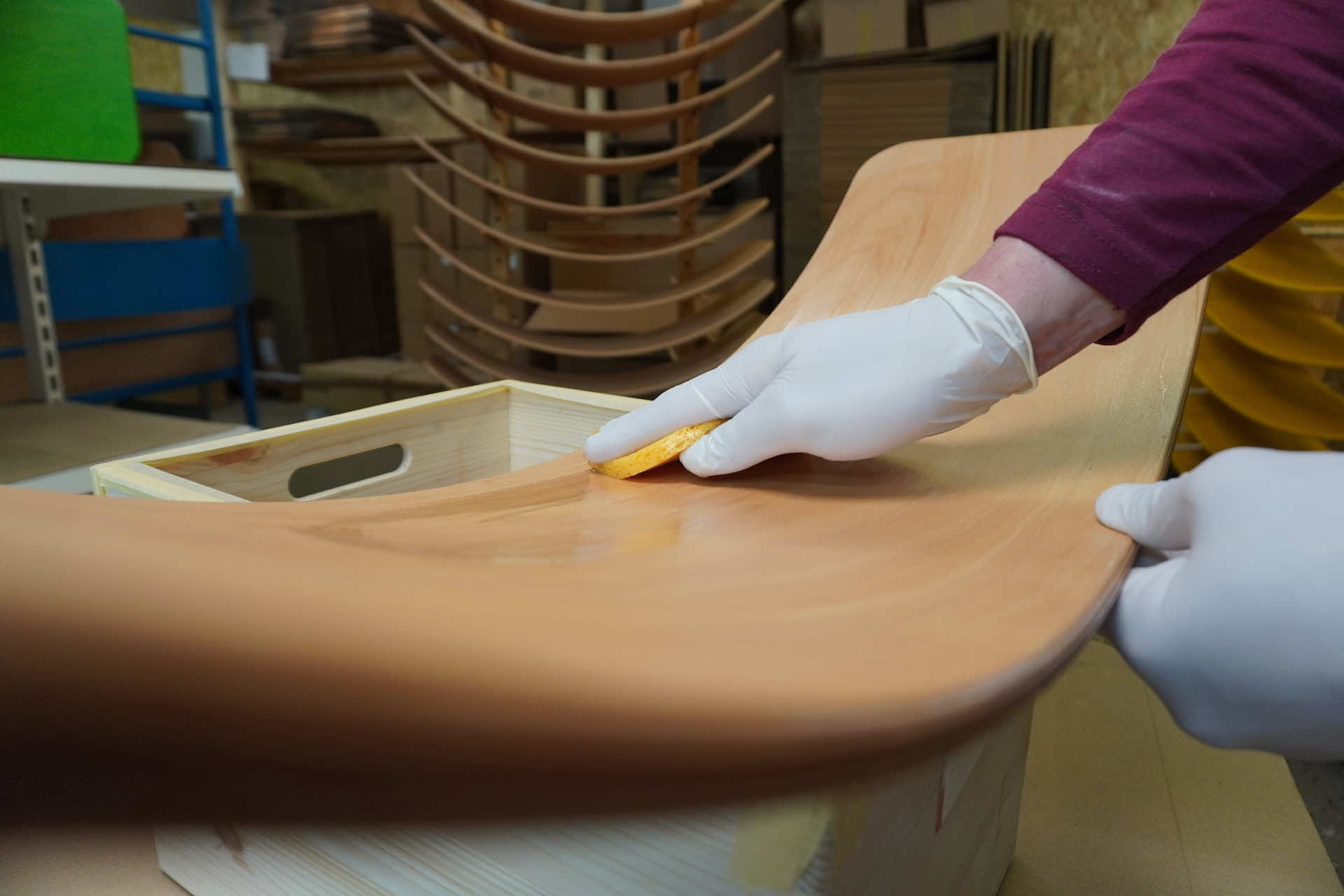 With or without cork?
For hard floors (e.g. tiles, parquet, laminate) we recommend das.Brett with cork carpet pad. This dampens noise, protects the floor and prevents it from slipping away quickly. For soft floors or outdoor use, das.Brett without cork is well suited.
Oiled or "lacquered"?
For home use, we recommend the.board in the oiled version. The natural linseed oil gives the Balance Board a stable protective film and a beautiful feel. The lacquered boards can be exposed to more dirt and are more resistant to moisture (e.g. for use in therapy areas).
How many kilos can das.Brett hold?
Das.Brett is a certified piece of sports equipment according to DIN EN 913 and is approved for up to 120 kg.