Tualoop – Set for 2 players EN
Tualoop – the outdoor game for the whole familyTualoop stands for sportiness and elegance. The game of leisure and skill keeps you and your fellow players fit, whether in the garden or on the beach.Package contents:1x ring made of Arboblend© (Ø 27cm)2x pair of sticks made of beech wood (50cm)1x game instructions (6-page, illustrated)1x tote bag made of 100% Fair Trade certified cottonRecommended from 6 years.Warning: Not suitable for children under 3 years due to small parts.Made in Germany
Group Tualoop – Set for 8 players EN
Tualoop for everyone!In "Group Tualoop" up to 8 players throw the rings together.Tualoop the group game for schools and educational institutions.Play it as a sporty field game, concentrate on bowling or use Tualoop to play hockey, be it outdoors or indoors.Product content:4x ring (Arboblend©, Ø 27cm, 63g)8x sticks (beech wood, 50cm)1x "Group Tualoop" sports bag (cotton)1x illustrated game instructions with eight suggestions for group gamesRecommended from 6 years.Warning: Not suitable for children under 3 years due to small parts.Made in Germany
Tualoop – ring
Extra ring, more fun!To expand your Tualoop set!Play Tualoop with 2 or more rings (e.g. golf)! Product content:1x ring made of bioplastic (Arboblend©, Ø 27cm, 63g)Recommended for ages 6 and up.Warning: Not suitable for children under 3 years because of small parts that can be swallowed.Made in Germany
Tualoop – pair of sticks
Two sticks, one more player!Play Tualoop in a group!A pair of Tualoop sticks to expand your set.Product content:1x pair of Tualoop sticks (2x sticks, 50cm, beech wood)Recommended for ages 6 and up.Warning: Not suitable for children under 3 years because of small parts that can be swallowed.Made in Germany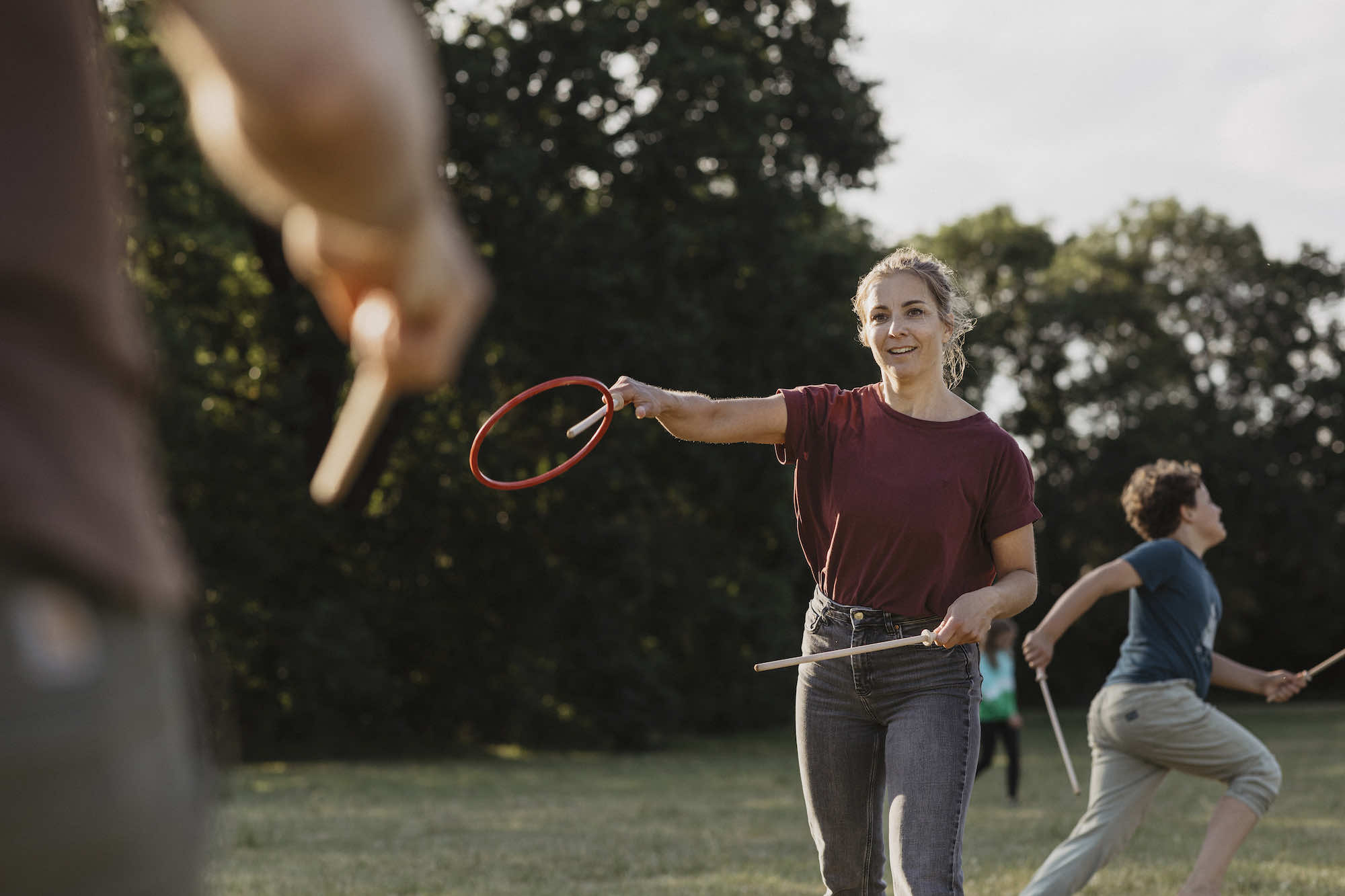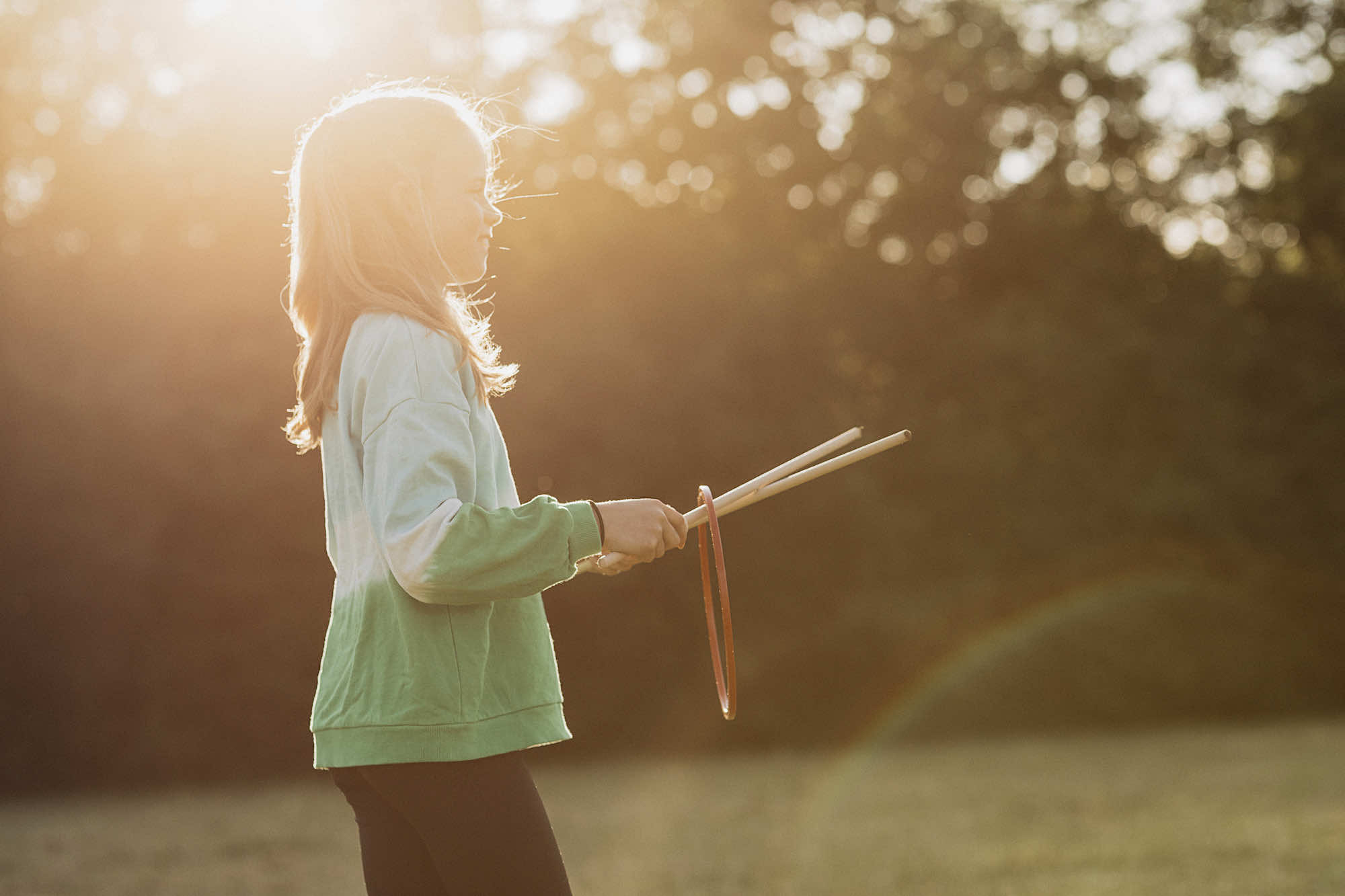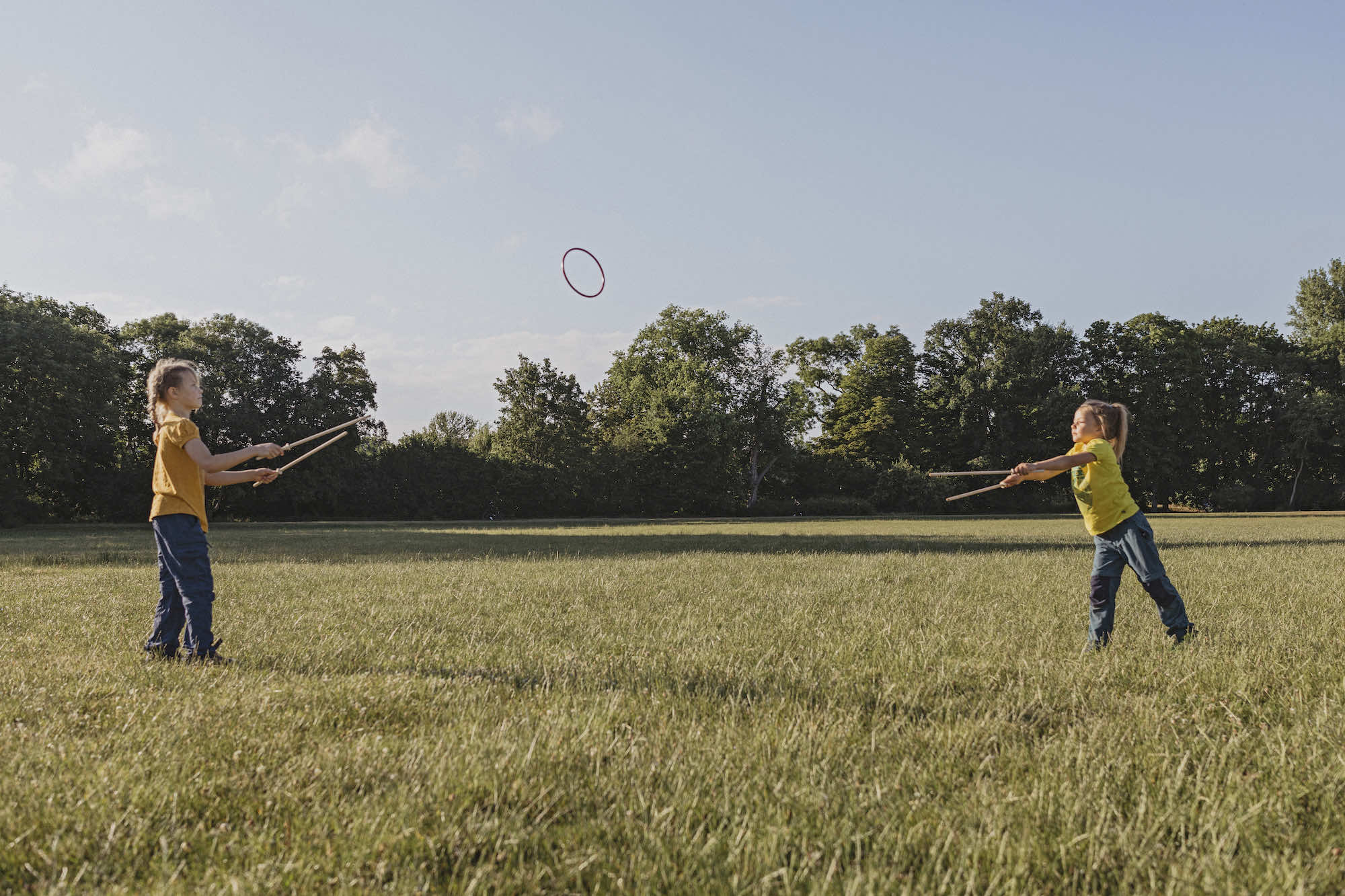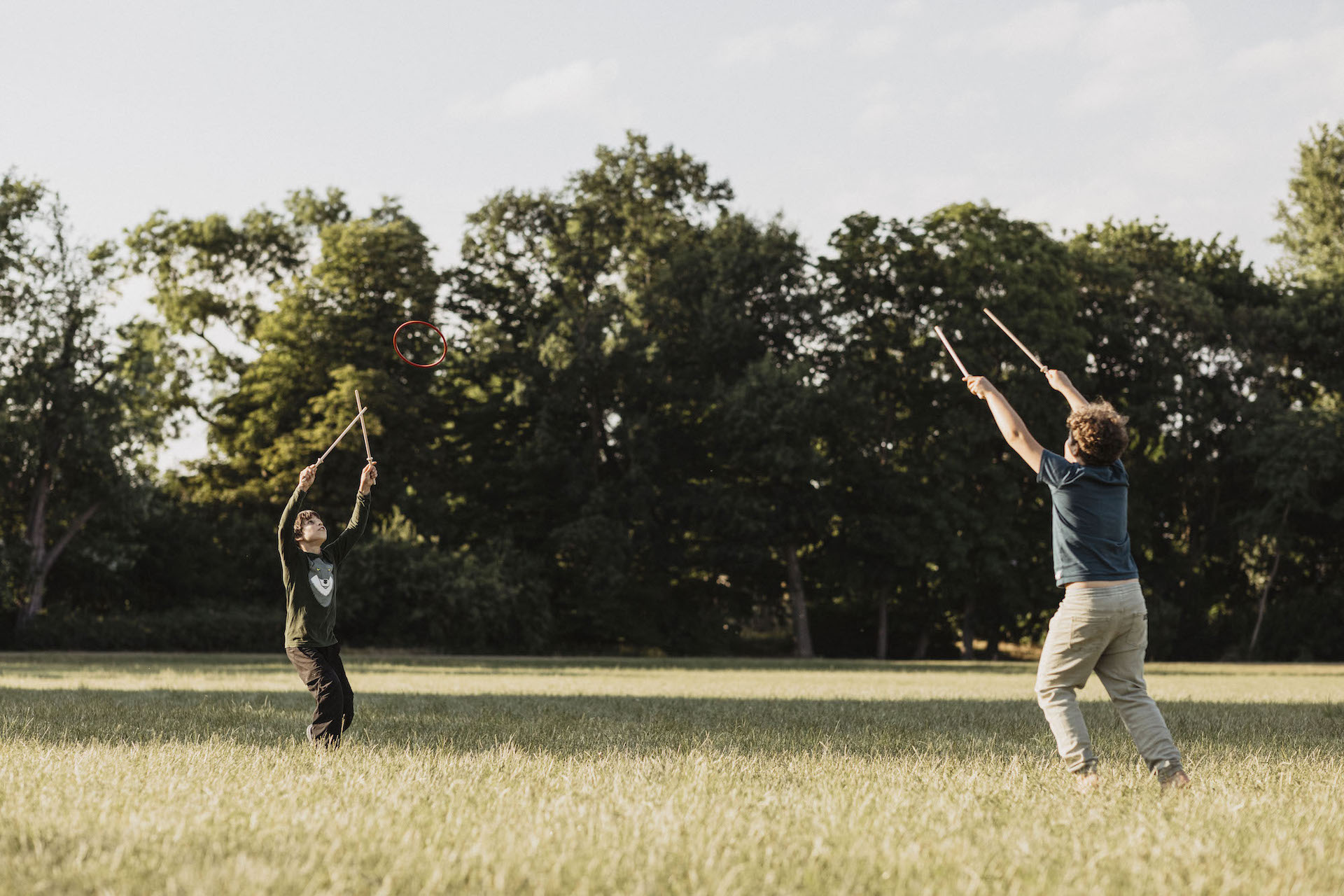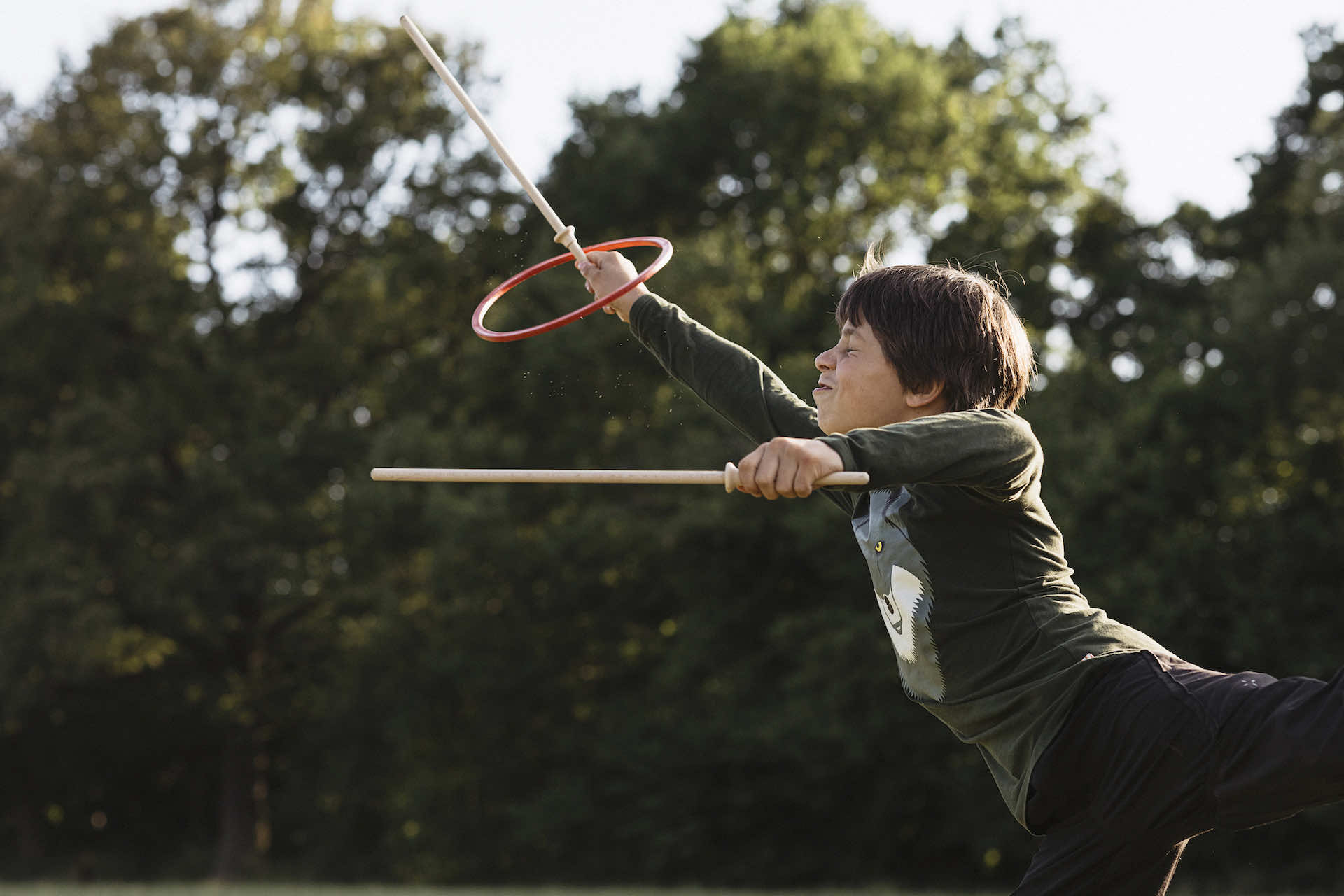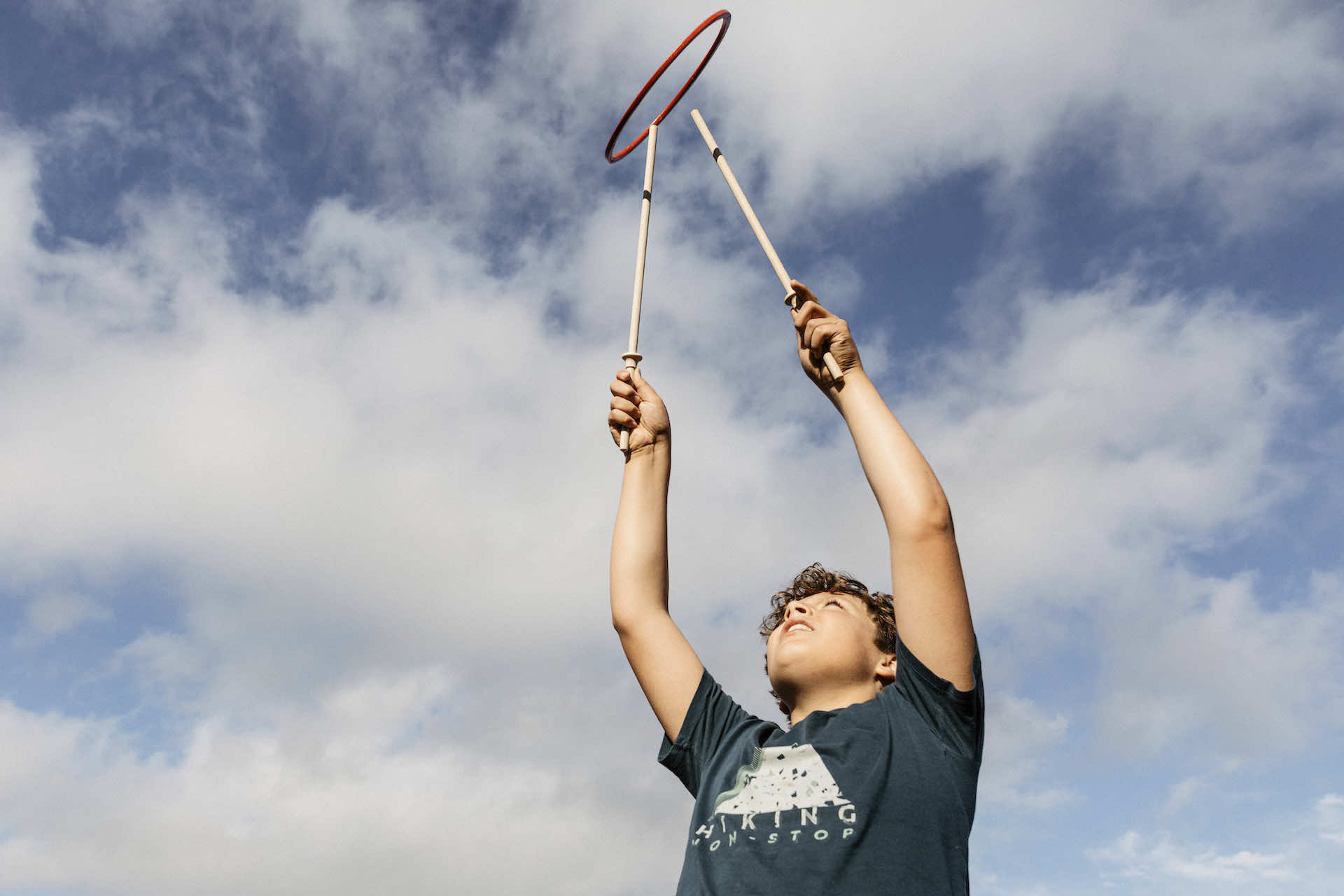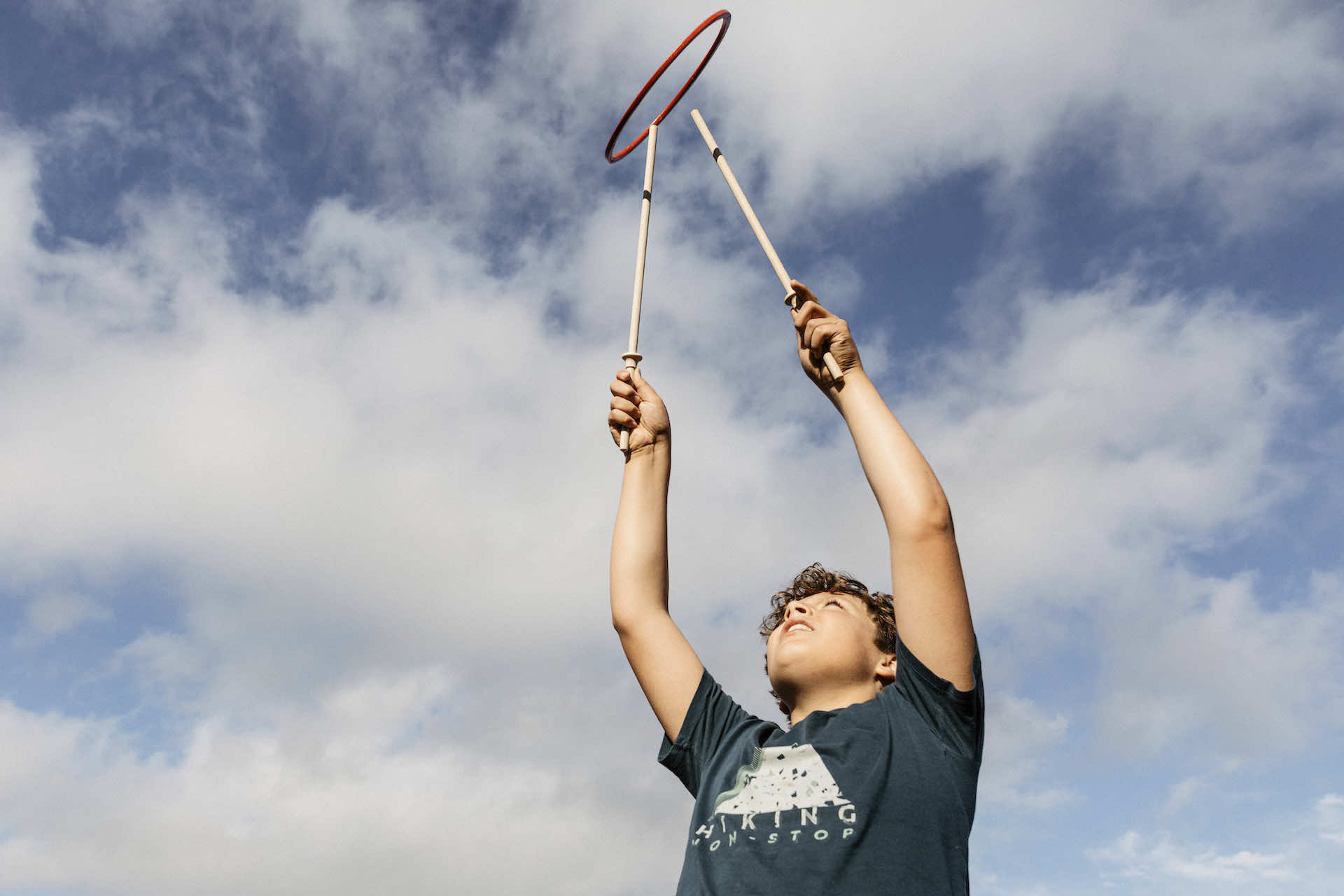 The technique is simple
Put the ring on the crossed bars and pull them evenly apart: the ring starts to float! With further throwing techniques it becomes really sporty! The ring can also be thrown vertically or made to bounce!
More than "back and forth"
In addition to alternating throwing and catching, there are various game ideas. Points can be scored on a marked out playing field or over a net. For school children, target throwing is especially popular (e.g. on bottles or sticks)! This can also be used to build a golf course or play "skittles".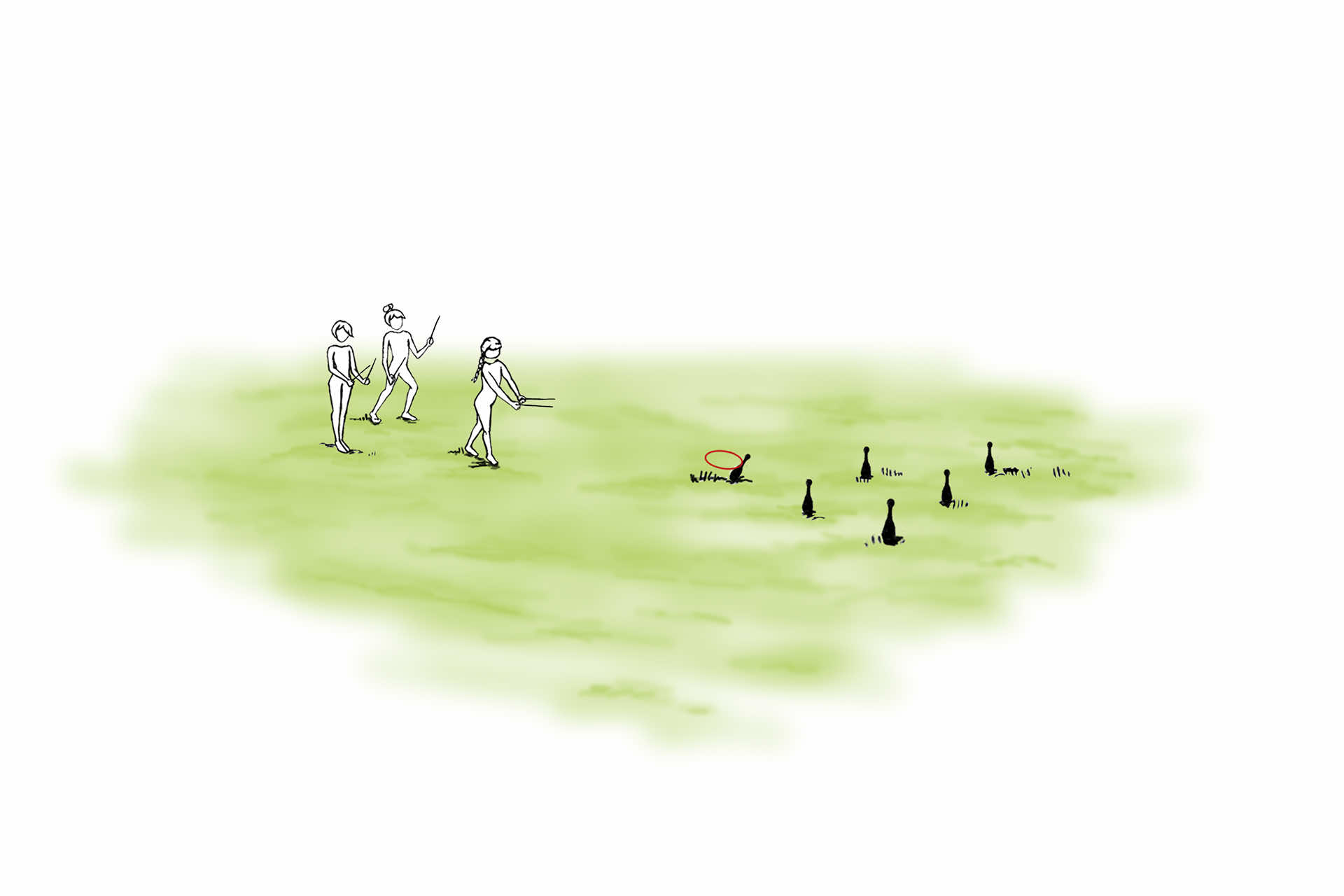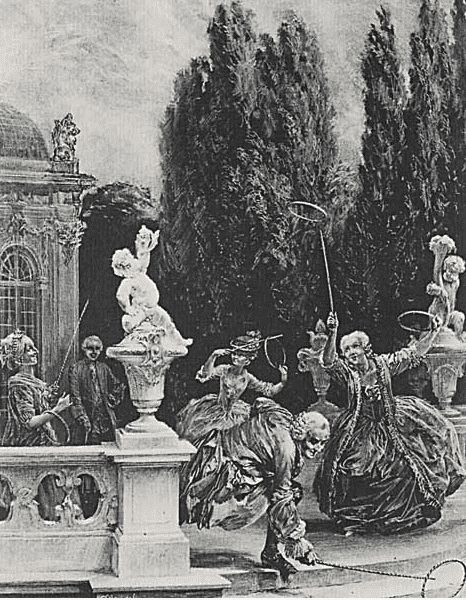 History
Fun Fact: Tualoop goes back to a medieval toy. Due to its "graceful" movements, only girls were allowed to play it back then. Arrived in the 21st century, Tualoop is finally released for all play kids :-)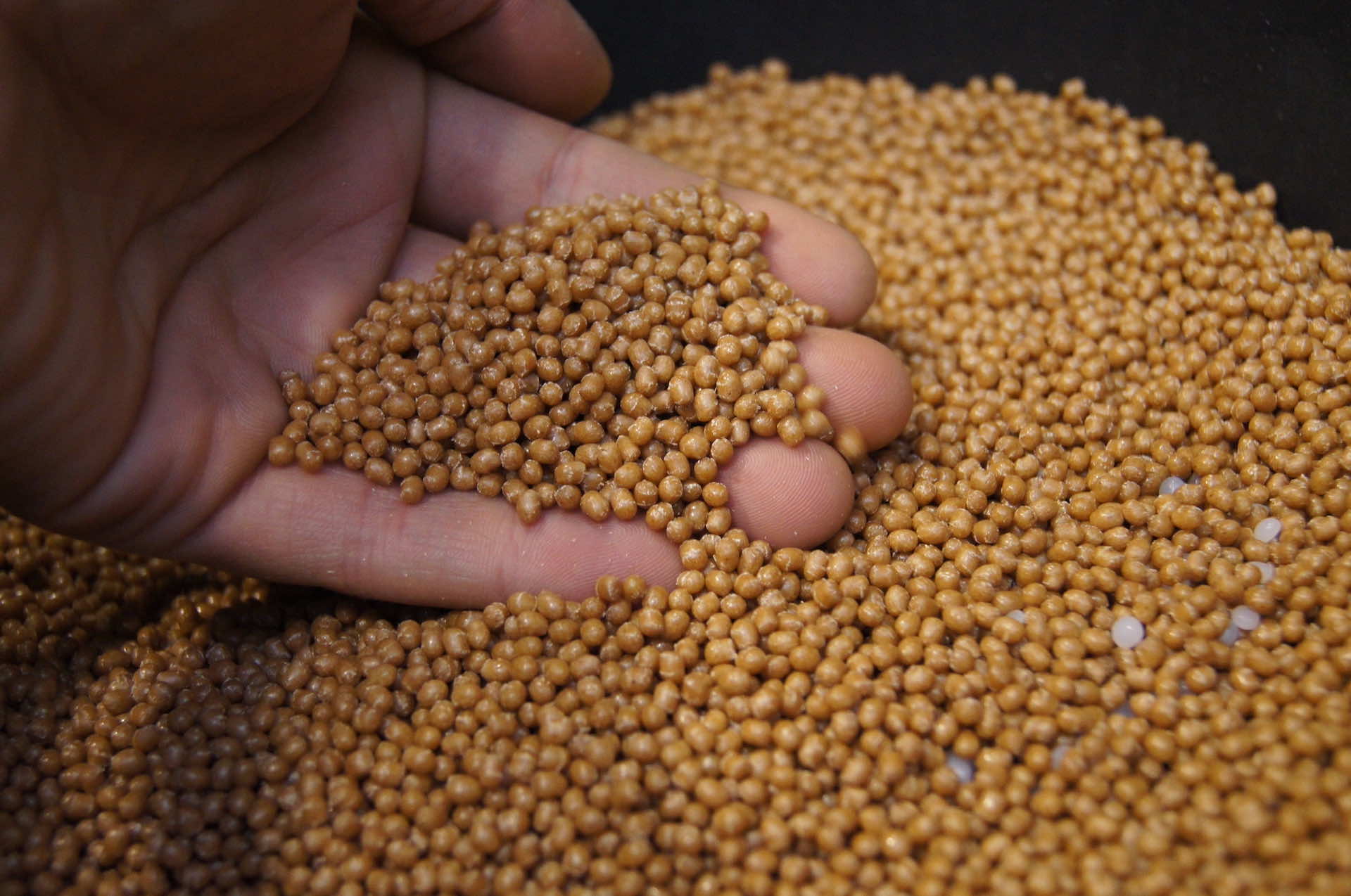 Play naturally with renewable raw materials
The sticks are made of local beech wood, the ring of wood fibers, resins and glucose (Arboblend®). The Tualoop - carrying bag is made of 100% Fairtrade certified organic cotton.
95% Made in Germany
Tualoop is produced (except for the carrying bag) in cooperation with local family businesses and the Diakonie Leipzig. The game combines traditional wood craftsmanship from Lower Bavaria and the Ore Mountains with the latest know-how in bio-materials from Baden-Württemberg.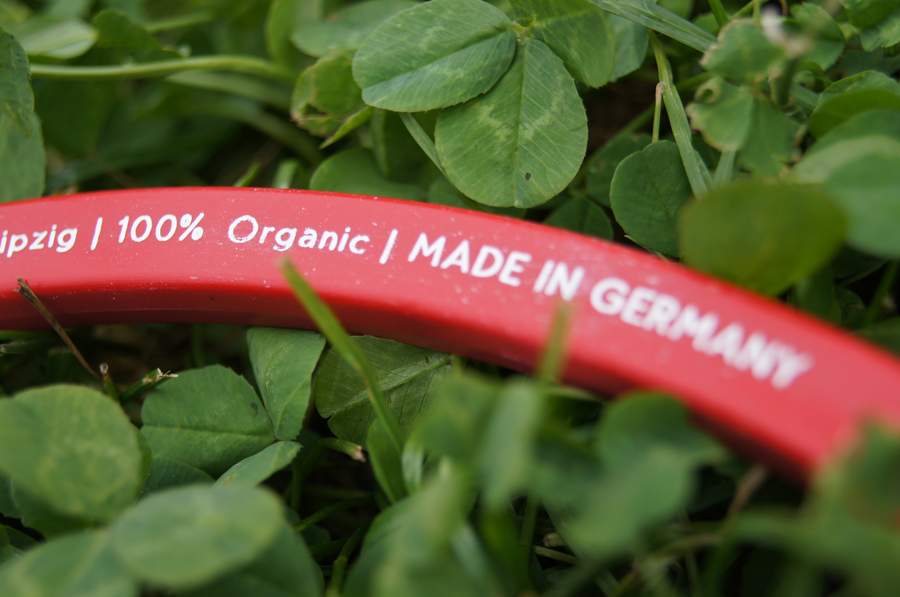 Tualoop – Set for 2 players EN
Tualoop – the outdoor game for the whole familyTualoop stands for sportiness and elegance. The game of leisure and skill keeps you and your fellow players fit, whether in the garden or on the beach.Package contents:1x ring made of Arboblend© (Ø 27cm)2x pair of sticks made of beech wood (50cm)1x game instructions (6-page, illustrated)1x tote bag made of 100% Fair Trade certified cottonRecommended from 6 years.Warning: Not suitable for children under 3 years due to small parts.Made in Germany
Group Tualoop – Set for 8 players EN
Tualoop for everyone!In "Group Tualoop" up to 8 players throw the rings together.Tualoop the group game for schools and educational institutions.Play it as a sporty field game, concentrate on bowling or use Tualoop to play hockey, be it outdoors or indoors.Product content:4x ring (Arboblend©, Ø 27cm, 63g)8x sticks (beech wood, 50cm)1x "Group Tualoop" sports bag (cotton)1x illustrated game instructions with eight suggestions for group gamesRecommended from 6 years.Warning: Not suitable for children under 3 years due to small parts.Made in Germany